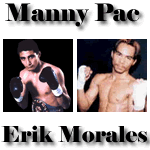 Round Thirteen: Manny Pacquiao vs Erik Morales Mailbag!

Isaac Barrio - 3/?/2005

Hardcore Boxing goes into Exta rounds to answer all the questions. Welcome to Round Thirteen of the Manny Pacquiao vs Erik Morales Mailbag.

Round One
Round Two
Round Three
Round Four
Round Five
Round Six
Round Seven
Round Eight
Round Nine
Round Ten
Round Eleven
Round Twelve

Make sure to check out our Free Manny Pacquiao Wild Card Training Video


---


Gil P. Acosta: I was just to shy to post my prediction and analysis for this fight. Because I might be misunderstood that I am so confident with Pacquiao. I really think the upcoming fight is a mismatch. Morales has no chance of winning against Pacquiao. Sorry, I really believe it is a mismatch.

Isaac Barrio:

No need to be shy! I could care less what people say about me and my opinions. I don't claim to be right 100% of the time…Only 99.9% of the time. If you feel that Manny is going to have an easy fight then you're entitled to your opinion.

I think Manny has a great chance to win. I don't think it will be a walk in the park for either fighter. I expect a war. Manny will pressure and Erik will respond with fire. Erik has great boxing skills but he has trouble avoiding a good old fashion brawl. Manny Pacquiao vs. Erik Morales will turn into a brawl. Manny Pacquiao vs. Erik Morales will be the early front runner for fight of the year. Count on That!


---


kuribayashi: I am just afraid for pacman if this goto distance, you know putting it on the judges hands...judges aint fair to filipino fighters..remember pac-man vs JMM? anyway, i hope this ends in KO, whether EM KO's MP or MP Ko's EM, so that no questions left unanswered what do u think..mabuhay ka!!

Isaac Barrio:

I have seen more then a few bad decisions in boxing. I have seen White, Black, Mexican, ..whatever be on the short end of a bad call. It isn't based on color or nationality. I do hope they get a good judging crew for this fight.
---


PASAWAY!!!: I HAVE SOMETHING IN MY MIND THAT BOTHERS ME MOST! NOT BECAUSE I'M AFRAID OF MANNY LOSSING OR BEING KO BY MORALES, IT BECAUSE WHY MORALES IS VERY SECRETIVE IN HIS TRAINING, IS HE A SHY PERSON OR HE DONT WANT ANY FANS TO SEE HIM IN TRAINING, WHY SHOULD YOU HIDE??? IS HE AFRAID OF LOSING OR AFRAID OF INSIDE JOB, THAT CAN CAUSE HE'S RETIREMENT!!! YOU SOME REPORTS SAID THAT IF EM LOST THIS FIGHT OR LOSSE TO HIS FIGHT WITH PAC HE IS GOING TO TAKE ANOTHER STEP IN JUNIOR DIVISION??? WHY NOT STAY WHERE THE SUSPENSE AND THRILL ARE??? IM NOT SAYING THAT EM MIGHT LOOOOOOSSSSEEEE!!! BUT ITS MY OWN OPINION AND SEEKING AN ANSWER!!! MORE POWER TO YOU MR. ISAAC!!!

MABUHAY ANG MGA PIRATA!!!

Isaac Barrio:

I don't think Erik is afraid of getting a raw deal. Erik does have something to prove though. Erik lost a tough decision to Marco Antonio Barrera last time out. Instead of going into a shell and taking an easy fight he took the hardest fight available. Erik will be focused and has something to prove. Erik could be very dangerous this fight. I'm not saying it will happen, but if Erik wins by KO I wouldn't be surprised.
---


RS Blancaflor y Fragante: Now, I understand why you said you will jump out of a ten story window..yeah, maybe just to prove your conviction to your statement..

But I guess these readers have their different interpretations..just be safe next time, bro!

I understand your situation..

How about a fight between Marquez or EM/MAB? Who do you think will win?

Taulava sana Palaruin na! kailangan nten xa sa ABC..thanx Isaac..

Isaac Barrio:

Yeah. I said I would jump out a ten story window but it was all in jest. I may be leaning toward Erik winning this fight but I have not made a definitive pick. I like both fighters; it is a tough call for me. Manny is looking super fast in his training. Erik and Manny both bring a lot to the sport of boxing. I'm just happy to see this fight taking place.

I think both Marco Antonio Barrera and Erik Morales can beat Marquez. Marquez is a great boxer but he is missing that fire which separates the good from the great.
---


Christopher Capulso: I agree with you Isaac that in terms of experience, Erik Morales has the edge over Manny Pacquiao. And by the way, I also believe that he's more accurate than the People's Champ and his stamina is indubitable. But in terms of heart, power and speed, nobody beats Manny. And I truly believe it's Manny's destiny to win over Erik. The only question in my mind that I would like to ask you is- Can Erik survive Manny's left, the same punch that lifted Fahsan 3K Battery's feet last December? If he can survive that, then he has a good chance of beating Manny. In short, Erik should avoid crossing path with Manny's left. What do you think?

Isaac Barrio:

I agree with you that no one at this weight can match Manny's speed. I think Erik is equal in terms of heart and power. People are forgetting that Erik has an abundance of power. It may be Manny's destiny to win. If Manny wins then more power to him. I just glad we get to see this great fight.
---


RomelM: PacMan seems to get careless or looks nervous during the first round in his fight against MAB and JMM. Both MAB and JMM landed several good shots before PacMan gets his rhythm. If he does the same against EM, I'm afraid EM will deliver a devastating punch that PacMan could hardly recover. What's your thought on this Mr. Barrio?

Isaac Barrio:

Well, Marquez has winning the first round against Manny until he got caught. I never thought of Manny as a slow starter. With his aggressiveness, Manny will get caught with some good shots every now and then. If Manny can take the power of Morales then he has a good shot of winning.
---


sid: HERE IT IS MY FREIND ERIC MORALES IS A TRUE MEXICAN MONSTER,HE RISES TO THE OCCASION OF THE FIGHTER IN FRONT OF HIM.HE IS TOUGHER THEN PACMAN MABEY NOT STRONGER BUT TOUGHER.(THIER IS A DIFFRENCE). MANNY IS A BRUTAL FIGHTER AND WHEN HE BRINGS HIS GAME HE BRINGS THE PAIN. THIS IS GOING THE DISTANCE (NO KNOCK OUT PRIDICTION HERE)AND IF IM RIGHT WE ARE IN FOR A SWEET TREAT. PS. FOR THOSE MONKEYS THAT ARE TRYING TO COMPARE EL TERIBLE PACMAN ,TO MAB PACMAN ,OR EVEN MARQUEZ PACMAN ,STICK TO THE GOLDEN RULE! STYLES MAKE FIGHTS

Isaac Barrio:

I agree 100%! STYLES MAKE FIGHTS! All we can do is crack open some beers, kick back and enjoy the fight. This is one fight I want to enjoy as a fan of Boxing. I plan on shutting off the computer, calling some friends up to come over, and getting shit faced drunk.
---


Banak: Which of the following will be the main factor that could win on EM-MP?
1. Power punch
2. speed
3. skills
4. experience
5. heart
6. stamina
Please choose only one Sir Isaac. Thanks again.


Isaac Barrio:

This fight will not be decided by one factor alone. But for the question I will say the one factor that is most important is experience. Why? Experience can help you deal with speed and power. When you have experience you have been in with the best and seen almost everything. If you have been in big fights and have survived then somewhere along the way you have displayed heart. At the top levels of the sport you will always get your lumps. If you learn from the lumps then it will only make you stronger.
---


Adiksayosy: Ms. Gil, Mr. Barrio was only saying it as a figure of speech and should not be taken seriously. Unless you are that idiot from England that said "I will cut of my balls if England losses to Wales in rugby" which he did and now is in critical condition after Wales won over England. Anyway, I think if it becomes a chess match like JMM-MP and goes the distance EM will win. But, if becomes a brawl like the Hagler-Hearns fight, MP will win in on or before the 8th round. GO MANNY!!!!!

Isaac Barrio:

Exactly!!


---


Darril A. Taboada: hello mr. barrio, in your own opinion what do you think is the best weight should manny pacquiao come up in this fight vs. morales should he weight 130 or 128? I saw the morales vs. barrera III, barrera is weighing 129 lbs. when he fight morales although he won that fight but during the late rounds barrera looks very weary I think its because barrera is not used on that fighting weight you see my point is if manny would come up 129 or 130 lbs. on that fight he could get weary during the late rounds and lose his speed and power. The only advantage of manny pacquaio is he's speed and power if he losses speed and power in the late rounds for sure he will KO by EM...

Isaac Barrio:

They say the last thing to go with a boxer is power. I'm not sure how far up in weight Manny can take it up but if he stays put he will always have that power. If Manny gets heavier and his speed decreases then he might have some problems. I think Manny should stay put. There is no need to chase after a Corrales.

I still think that Manny vs. Erik is still a pick em fight. The winner will be the one who wants it most.


---


Aries: In boxing, the one who has more speed & power has a 70% chance to dominate the fight,this means that mp has greater chance of coming out as a winner, am i right?

Isaac Barrio:

No. I wouldn't agree 100%. Speed kills but it isn't everything. I have seen some very fast fighters take an ass beating. Case in point, Marco Antonio Barrera vs. Naseem Hamed.


---


Oscar: I've watch manny's previous fight and no doubt he will knock eric in early rounds. eric must be careful for manny might TKO him if given a chance

Isaac Barrio:

I don't want to hear no crying when Manny doesn't knock Erik out early. Erik is rock solid and most likely the toughest and meanest Manny has faced.


---


arman u. aquino: Looking forward to see this boxing match..i've seen personally one of the boxing matches of "PACMAN" years back and he is already good, with the last match that he has, whew, i can say he is more than a destroyer, lifting both feet/legs by punch ---MUCHO TERRIBLE, I do hope Sr. Erik Morales has enough peso

Isaac Barrio:

I have seen the punch and footage. It was a great shot! No doubt about that. But it doesn't mean that Manny will land the same punch on Erik or if the punch will even have the same effect on Erik. Manny will be trying to crack one of the hardest chins in the sport.


---


SPIDEYMAN: Bro,

Good day, I know you like the both fighters, but for you who do you think will win? and who's your bet, since gave us some overview on the fight but how about yourself? who do you prefer to win???

THANKS AND GOD BLESS...
GO WEB!!!

Isaac Barrio:

I don't bet too much on Boxing. I don't like the fate of my money lying in the hands of another man. That is why I prefer poker. But since no cash is involved in answering a question I will go with…well..you will just have to wait until I put up the Official Hardcore Boxing picks.


---


IronWood_Cebu: I have to tell you that aside from that much anticipated PACMAN-EL TERRIBLE fight on March 19, you have to pay a close attention to a young and up coming kid named Z "The Dream" Gorres... he is also a fine filipino boxer fighting under that MP-EM card.. dont miss it!

Isaac Barrio:

I haven't seen much of him. But I have heard some positive rumblings about him. It would be nice to see his bout on TV.


---


art: I think MP will be outscored, Manny could only win on this through knock-out. Bias scoring is very evident on most big fights and that's favor EM.

Isaac Barrio:

I think..or at least hope..that this fight will be scored fair. I can't make no promises as I have seen my share of stupid ass decisions.


---


Maria Kristina Fragante: Have you heard of Randy Suico? Do you think he can fight MAB, EM, or PAC? Because this guy's more powerful than PAC..

Isaac Barrio:

No. I have never heard of him. If it is true then he will be star someday. Right now I will put him in the same boat as Valero…Who? Exactly!!!


---


Harry: You both really suck. I have sent you a legit question five times and you never put it in your mailbag. One day, I will catch up with both of you and kick your asses. Say I won't! That's right, you are both scared of Harry and Harry will beat you up real good like Manny is going to do to that punk boy you both love Morales. Man I wish I could get you both in the ring at that same time. If I did, you both would cry like the punks that you are. Yes, I said punks, do something about it. In fact, here is my phone number so I dare you call me if you have any balls. (212) 654-9018 or come to NYC right now. I am waiting to kick your asses and if you have any balls bring it on. Yes, I know you are scared now, but you should have put my question in this WHACK EMAIL BAG YOU HAVE.. Don't run now I am coming for you both and you are pissing your pants........ I see yellow stains now... Harry is mad and you are to blame.

Isaac Barrio:

How do you know it has not been answered? I have many mailbags done and ready to go. You better be careful what you ask for. I suggest you pop open a beer and chill, the alternative is Kimo using your skull to shit in.