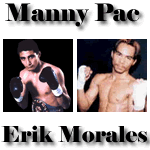 Round Eleven: Manny Pacquiao vs Erik Morales Mailbag!

Kimo Morrison - 2/24/2005

Welcome to Round Eleven of the Manny Pacquiao vs Erik Morales Mailbag. Look for our Manny Pac Training Video to drop this week!!

Round One
Round Two
Round Three
Round Four
Round Five
Round Six
Round Seven
Round Eight
Round Nine
Round Ten

Just In!! Free Manny Pacquiao Wild Card Training Video


---


Leonardo Davinci: Hi! Hope you can publish my question as well as your answer.. I hope this is not true. How influential is Don King? Can he determine the fight? Is it true that He is offering $$$$$$$ to PACQUIAO just to lose this fight with Morales? If not The Mafia of Don King will kill PACMAN's Family? How desperate is Don King???

Kimo Morrison:

I think Pac has too much pride to do anything of the sort and rumors like that fly around about all fights Don King is involved with.


---


PACKY: Do you really think Manny would win if it is going to be a brawl? But what I think is Erik will be a counter puncher because I'm sure he's watching JMM-Pacquiao video. Do you agree?

Kimo Morrison:

In a brawling situation, JMM and Erik are two different fighters for one JMM can keep his cool when hit and EM can't, for another, JMM hits very well while in transition with his feet, and backing up, EM does neither. Erik has to be planted to throw well with power and if caught up in a brawl, he will never be able to get set until set on the floor.
---


bob: KIMO! hehehehe..I'm back baby!.... I think PAC will knock out EM,the way it should be!!! I thought your BIAS... soweeee... SEE YAH on MARCH 19..more power

Kimo Morrison:

Okay.....I am in no way bias on this match, but hey...to each their own.
---


Joanthan Tumalay: Hello mucho guys,

I'm concerned that Pacman will be injured in training or sparring... what if... he will be hurt and El Terrible will dominate in later rounds? Can we expect another bias judges? And Bob Arum will influence the result?

Kimo Morrison:

Anything can happen from now to then, but hopefully all goes down the way it is supposed to and we don't have to worry about the judges.
---


Triskelion: Some articles posted in many boxingnet revealed that Erik will be moving up in weight (lightweight) win or loss against Manny. If he lose, do you think Erik would still be marketable in the boxing business? If Pacman wins what do you think is the best next fight for manny? What is your opinion about manny vs diego corrales?

Kimo Morrison:

I think Erik is definitely still marketable even if he loses. If he does lose it is not the end of his career if he chooses to continue. Manny if he wins will likely fight MAB next, that is my educated guess at this point in time. The only two men to beat the great Morales, fighting a rematch at a different weight and one that may just benefit, MAB a bit more. Manny and Diego is a tough match to call, but if Diego's defense doesn't get better allowing himself to get hit so much, I think, that Pac could pull of an upset though unlikely at 135.
---


Rojvil: I agreed to EM when he said that the two defeat of MP is by KO, but maybe he don't know why. The 1st lost of MP is at a very young age, he's just like a kid who fight in the street who is only know is to punch and not to defend like saying 'g I will punch you, I don't care if you punch me, 2nd is when he fought in Thailand when he was just trying to meet the weight limit in few hours before the weighing time that caused him to drain. MP will fight now EM in his best form and well prepared, MP is now a different fighter not like before, he's trainer is different. Maybe EM is a dangerous fighter, but not the same like before. Although it is possible that EM will KO MP, I think that the big chance of EM to win is by decision, because MP can handle more solid punch and before you can give him that you need to be like JMM first who is a great counter puncher. Many good fighters experience their first KO to MP like will happen on March 19, 2005 where EM experience his first defeat via TKO.

Kimo Morrison:

I think so too...
---


Dalida: Manny will win within round 1 to 7. if he win it will be a knockout, at round 8 to 12, i give it to Erik, either by knockout or decision. Pacquiao's name taken from a spanish language to filipino it means like when you buy something, and you buy it all!!!!!! viva chavacano, zamboanga city!!!!!! Philippines

Kimo Morrison:

So you are saying that Manny can't win if it goes past 7? I disagree.
---


Howie Gile Morin: Do you think Manny can win this fight in less than eight rounds via TKO or will it be the other way around?

Kimo Morrison:

Can he?...yes, but I think it will go a bit longer than that before Manny gets the TKO.
---


berndout: I think this fight will boil down to who wants it more. MP has the speed and slight power advantage. But this will be negated by EM's experience and savvy. It all comes down to who can dig deep in adversity. Who do you think between the two can most likely lift his game to the next level?

Kimo Morrison:

I think that it WILL come down to who wants it more, but the problem will be in Eriks conditioning vs. Manny's where I see Manny always coming in more fit. Not being SO exasperated come the final rounds as Erik always seems to be at the verge of falling over.
---


Marlon Alipio: First of all, I would like to address this comment to all Erik Morales' fans. I would like to apologize in behalf of all Manny Pacquiao's fans that we might have hurt your feelings and pride in any ways by saying that Manny would knock Erik out. But, I hope that you people would understand that all of us here have their favorites, but the only difference here is that we kinda out numbered EM fans.

In fairness to those who say "logical" things about Manny knocking out Erik. They have all the right to say that, because they believe in Manny Pacquiao, as you people believe in your Erik Morales.

This fight may go either way and personally, I hope it will go our way..."The PAC-MAN Way"

Thank You and More Power !!!

Kimo Morrison:

I hope it goes your way too...I have a lot of money on it!


---


masculados: Good day to all of fights fans out there! my question is, if you watched the fight of PAC and 3K battery of Thailand, Manny uses his right hand instead of left, and suddenly he noticed that using his right is not enough! Now my question is if PAC improved his RIGHT hand and used it to EM, would EM might confused??? Or EM have also his own strategy to use for PAC~! more power to you KIMO! Hope u would answer my question this time, because this is the 4th time I send a question and yet nothing had been answered..... MABUHAY ANG PILIPINAS!!!

Kimo Morrison:

If it came to me...I answered it, sorry if Isaac hasn't put it in the bag brother...now to answer your question. I don't think that it will CONFUSE Erik for Manny to use his right more, but it will make him more leery of both hands and more likely to get caught by the left.


---


Regor: Hi to both of you! I'm sure you would disagree with me if I'd say Pacman has better uppercuts than El Terrible. But i'm sure you can't disagree with me if I'd say Pacman is more powerful and hits harder dan morales. I'm sure Pacman will register Morales' first KO loss in the latters resume. Pacman KOd Barrera, Marquez and easily disposed Fashan last December. That would only show that Pacman has a more power-packed-devastating-punches compared to El Terrible who never KOd the likes of Barrera and Espadas. What do you think, Unprofessional Guys?

Kimo Morrison:

I think you are right on all counts, I think that Manny has a better delivery of his punch and a better follow through with a better base (his legs) to throw them from. He IS more explosive! Yes...I agree.


---


Primo Mital: Hey Kimo,

What's the best fight strategy for El Terrible when he goes up against Pacman? Box from a distance and try to last the entire 12 rounds or fight him up close, back him up and hope to get Pacman in trouble in the early rounds.

Kimo Morrison:

I think he should stay as close as possible not letting Manny get his punches off. He needs to smother Manny in order to win period, that is the only way I see him coming out the victor is to smother Manny so badly that Manny never is able to land without being tied up or clinched.


---


CellyCell: To Kimo, if you get a chance to get your head out of Manny's lap, what makes you say he has a better beard? Do you think that EM's right uppercut and or overhand right is stronger than Manny's right?

Kimo Morrison:

Thank you for that snide comment, but to answer your questions, it comes down to conditioning when talking about a beard in the long term sense. When taking punches in the early rounds Erik has the ability to shake them off well, but as he goes late, he runs out of gas which will make him more vulnerable to getting KO'd which in a -SENSE- means that his -BEARD- is not as thick due to conditioning ONLY. I think that EM right is more powerful than Manny's currently but with work, that may change.


---


ice: Both fighters must have the strength to knock there opponent. And who will land the first atomic punch will decide the fight.

Who among the two EM or MP have the atomic punch?

Kimo Morrison:

Atomic? One blast doing optimal damage? That would be MP in my opinion.


---


Gil P. Acosta: Hey, all the best fighters that Pacman fought thought that Pacman is easy to beat but were proven wrong-they all kissed the canvass. His style is deceiving and gives an impression that all he has is his left straight. When he fought Marquez, he just relied on his left straight because his legs were cramping and his foot has a blister like injury that limited his side to side movement to throw other punches as he has shown against Barrera. If you can just view the tapes when he was an amateur in the Philippines, he has a vast arsenal of punches that were all lethal not only his left straight. So, don't be so deceived with his vaunted left straight. And don't be deceived with him as having a weak jaw. When he was an amateur, he fought bigger and stronger men. He absorbed big punches and still beat them in the later rounds. His style is complicated as Marquez'z trainer puts it. His style is hard to predict, so it is hard to fashion a fight plan against him. Whereas Erik Morales's style although has vast arsenal of punches is very predictable as shown in his latest fight. I cannot wait for the fight. I give Pacman a slight edge because I think Morales' camp will be having difficulty formulating a fight plan because of Pacman's complicated style of fighting as Marquez's trainer puts it.

Kimo Morrison:

I think that Pac is diverse in punching arsenal ONLY when moving foward, he seems to forget that he has two arms when he is pressured back or at a stale mate. I think that EM will be a bit more complicated than in his past fights but still think that Pac will prevail.


---


Red Z: Will there be any chance that a rematch with Manny Pacquiao and JMM be realized? It was the issue of the bigger purse the last time. Should MP win the fight against EM (which is more of a possibility), we can only guess the next pay-out for MP. Should he lose, I believe he will still earn a better than 1.75 M purse come his next quality fight. Word has gone out that JMM will unify the 3 big belts of featherweight. Is this a way for JMM to appraise his "professional fee" should talks of his rematch with MP resume? I believe JMM will appraise himself better monetarily if faces MAB. By the way, how come JMM never got to face MAB or EM. (I really believe MAB or EM will be punished tremendously by JMM). Thanks...more power!!!

Kimo Morrison:

Not enough money in fighting such a tough competitor as JMM for either one of them. I think Pac COULD get the chance to fight JMM again but will see that the money is in a MAB rematch and so is the network in wanting to see them fight again as well.


---


melox II: Mr.Morrison, from the early round mailbags I've noticed that your in favor of Erik M. How come you shifted nor change your bet?

Kimo Morrison:

Melox II I have never once changed my take on the fight's outcome once, I have said from the beginning that I think Pac will win the fight via late round KO, what I have done though is try and shed some light on the seemingly over confident Pac fans that EM is not just a walk through the park so to say. He is the toughest of all fighters that Pac has faced to date and Pac will have his hands full. I am also trying to shed light on the ways in which I think that EM -CAN- win the fight if he uses the right game plan... This is more in defense of what I saw as Erik getting the shaft by so many saying that he doesn't even have a prayer. I think this is a fight that could go either way...PERIOD...cause it can. But I see it with Pac being the winner by KO or TKO in the 10-12th rounds. I have NEVER swayed from that...just tried to be a little...diverse in not being so bias one way.


---


bonnieface: Lets just watch the fight. The best man win! ok guys? Viva! Pilipinas! I go for PACMAN! morales will go down!!

Kimo Morrison:

Yes!!!! I wish I could though it seems as if I am going to be busy with this for a while.


---


RomelM: I noticed that during the first round of the fight against MAB and JMM, PacMan seems to be nervous (or maybe just too excited) that he seems to be out of balance and gets tagged by his opponents. If PacMan appears the same when he meets Morales, I'm afraid Morales can deliver a devastating punch that PacMan could hardly recover. Any comment?

Kimo Morrison:

It is possible, but if any fighter comes out warm and ready to fight it is Manny, he will be ready come fight time. He is just excited that all the time dreaming of knocking a guy out and finally the time comes for him to have the chance.


---


nel_constant: The most logical reason why Morales eventually decided to take on Pacquiao is redemption from his loss to Barrera in their most dramatic trilogy. Erik gambles this fight although he knows how difficult this is for him. There is no other way for him to regain lost ground. It's do or die! If he wins, then a fourth fight with Barrera is logical since he has beaten the man that manhandled his conqueror. But if he loses the fight, going up in the division would be a nicer escape.

Kimo Morrison:

Exactly why he took this fight I believe! Good points.


---


ray: What happens to pacman if he lose this fight? what happens if he wins? Who do you think has a best chance of beating manny out of MAB, JMM, EM?

Kimo Morrison:

Out of all of them, I think Barrera has the BEST chance of winning. For one, he has great confidence coming off a HUGE win with Erik, and he is a fighter who adapts like no other Mexican fighter out there. He will come in with a completely different fight plan against Manny, and we have yet to see if Manny fits 130lbs well. It may slow him down a bit. If he wins I say it is MAB in a rematch.


---


Owen Santos: Maybe the certain advantage of a Mexican boxer to a Filipino Boxer is their location; sitting beside US is a big advantage, that's why they always get quality fights and bigger breaks. While a Filipino boxers must travel and earn money, to be able to have a break to bigger fight and gain respect. Now, Pac is in the US and we should respect warriors from the Far East Asia.

Kimo Morrison:

We do respect them, when we see them...but most of the great Asian fighters are into MMA and not so much western boxing. It's true...I am a HUGE fan of some great Asian fighters, they just don't box.


---


Dan: I believe Manny will beat Erik. Pacquiao got a draw with Marquez because he injured his hand so much when he hit Marquez on the early rounds but still managed to fight to the end.

Kimo Morrison:

No telling why he couldn't put JMM down, but Pac will hopefully get the chance to redeem himself.


---


Cadjut Bay Hernandez: I would just like to ask why Morales gets frustrated every time his opponent hits him hard? He loses his cool and strategy. This is not the Morales I used to know..

Kimo Morrison:

It has always been the Morales I have seen, though he seems to get caught up in the wars too long now days, and once gone to trading never goes back to strategy.


---


Voltaire Playboy: What do you think the main reason why JMM decided to ask more money for the rematch between him and MP?

Kimo Morrison:

Who knows why but JMM? I think it was because he really didn't want the fight right now because IF he lost, would be done!


---


Agot: Have a good day sir

what do u think for this kind of boxing in history that many Pacquiao will beat Erik Morales in early around, and what are they question and comments about for Erik,,, that u and have a nice day to u.....bye

Agot

Kimo Morrison:

For history? I don't know, but it will definitely go down in history if he KO's him as the first man to do so. I have no questions for Erik other than "Why are you such an ass?"


---


Leo: ei, everybody.. im just 15 YO, but as what i've seen in MP's previous fights in cd's. not the EM type that will KO MP. maybe if MP gets heavier, EM has chance just like 3k before. aside from that there is no other way EM can KO MP... hoi pinoy ito may agimat ang dugo!... good luck. prayers will do in this fight.. GO Manny! and get ready MAB we'll get thet belt.. ASAP!

Kimo Morrison:

Thank you, and keep watching the best sport in the world!


---


rogelio mercado: I think mp will win by ko that's because of his very powerful uppercut and combination. but, how about em, what is his counter punch? if mp will try to ko him!!! who do you think will win in this very great fight this coming "death by march" of two fighter???

Kimo Morrison:

I think that Manny will win in a very tough bout, taking both warriors to the end of their rope!


---


NORWIN V. of pearl city HI: I gotta say both of these guys are great fighters and both are hungry,but after all the punishments and being the younger man,conditioning,and determination i think pacquiao will come out victorious in the 10th round via KO. good luck to EM and more power to MANNY. by the way KIMO(KIMO fr. UFC?) which part of Hawaii are you from? MAHALO bradda!

Kimo Morrison:

No, not the Kimo from UFC bra, and I see the fight going down just as you do in the late rounds by KO for Pac. My family is from your part of the island on Oahu, Nuu 'anu by the ol' country club golf course. Mohoe is my family name on Hawaiian side.


---


mr. boom-boom: I think if anything this pac-erik fight is nothing but erik's swan song. it will be good but el terrible's good

Kimo Morrison:

Could be


---


malibog: "Kimo Morrison: Bruce was not that goofy looking bradda!!! LOL " Call Manny goofy all you want but Manny can kick Bruce's ass and yours at the same time, BRADDA!!! LOL!!!

Kimo Morrison:

Manny vs. Bruce...now there is a hypothetical bout for the ages, but I would take Bruce Lee in that fight, he was just a killer. And for me and Manny, if I were much smaller I would lay money on Pac, but he better eat his wheaties before trying to hack on this ol' tree. I have eaten bigger sushi roles!


---


MANNYSDBEST: I think If Morales will be able to handle the POWER of MP... I think He has a chance in beating PAC! Do you agree?

Kimo Morrison:

If EM can handle the power of Pac better than we all seem to think he will, than Pac is in trouble, but it is more his conditioning and handling the power down the stretch that I am wondering about. I think he hangs in early but fades late. As always.


---


Jurgen: I don't understand why people say that PAC has an age advantage over EM. EM is only 27 years of age. In other words, he is still a very young fella. PAC is 26. How big of a diff is this? A few months ago before EM's 3rd bout with MAB, people say Morales will be more dangerous, more mature, stronger, and will come out winning the fight etc...etc... These all changed right after he was set to tangle with PAC in a few weeks. Common guys... What is it that you are really saying?

Kimo Morrison:

I agree, that is why I have NEVER said any of age... I think Erik is young, though battle worn, but young enough in age to not be considered as an underdog in that area. It is something I have wondered as well, thank you for bringing it up.


---


Aurelio Fabro: This is exactly what I have been saying will be Erik's downfall, his EGO... if he could stay away from it for just ONE night and be the smart fighter instead of the hot head that he is, he would not have trouble with this fight at all IMO.

Haha are you serious? We are talking about the Filipino dude Manny Pacquiao right?...haha this guy's been a threat ever since he put on a pair of gloves. You can't just go in there and act smart and win the fight because this guy will figure everything out to knock you out...this guy has power....not regular power....Morales will get hit and the fight will be over...Pacquiao is no ordinary fighter....out boxing him is not going to work...fighting the way he fights is the only way you can beat him...that mean FIGHT! With SPEED! POWER and lots of em and lots of STAMINA and lots of DETERMINATION...I can't believe you said no problems at all. haha

Kimo Morrison:

I said fight SMART!, never did I say "out box" You said that! I think that there are EASY ways to victory in fighting a guy like Pac, and I have stated how I think Erik could go about this MANY times and it has nothing to do with out boxing Manny. It has to do with using his size to smother a smaller fighter using his arms to entangle and frustrate a less experienced fighter that will attempt to head hunt once put into a position of frustration as well as Erik being at his best when standing still and harnessing his power not losing it as he backs up. In which case I think that Erik could then fight a fight that would be boring however effective and one he could win EASY!


---


Waray: You don't sound different (aka more knowledgeable) than those who are asking questions. To me you sound like it's a fifty-fifty fight, either could win. In other words, you don't know shit.

Kimo Morrison:

I think it is a bout that could go either way, though if you guys would bother to read, if you can, you'd see that I pick Manny to win, I have really just had to explain to the overconfident Pac fans the ways in which Erik could win, which in my eyes are limited. I have made my self clear I don't know how many times that Erik will fall to KO by Manny in the late rounds!!!!!!!!!! How much more clear do I need to be?


---


feliz: Why is Morales called El Terrible and he is not terrible anyway. He is so weak isn't it compared to The Pacman!!!

Kimo Morrison:

He is terrible, I can't stand him.


---


Otoy: I think Manny Pacquiao is way too much for this 3 Mexican Fighters...Marquez is lucky enough to end the fight with Pacquiao coz Manny sustained a minor fracture on his hand on their fight. If Manny didn't fractured his arm I think Marquez wont last in 3 rounds..cmon you see him getting knock down 3 times in 1 round.

Kimo Morrison:

Now it goes from a blister on the foot to a broken hand...


---


Manny-die-hard: I've been a PAC follower even during his amateur days. PAC is a guy that will fight not only for the money and for the glory of his country but also for the honor the Filipino boxer. This guy used to eat sweet potato, why he would go back to taht kind of life. I remember reading a certain boxing promoter in the Philippines in a FHM issue that boxing is good only for those who have nothing to eat.

PAC will win this match... I am sure of it.

Kimo Morrison:

I am sure that he will too. Though I guess that is not clear to some...


---


Jerry Lynch: While I will agree that Morales is an excellent boxer, he can also punch. Manny had better be aware of what he does when he moves back away from EM because Morales is an excellent counter-puncher. I predict, that Manny will knock him out within 5 rounds primarily because unlike when he (Manny) fought Barrerra, he now has a right hand to go along with his vaunted left. I saw the fight with 3 K Battery & the straight right set up the knockdowns & the final knockout. Freddie Roach has done an excellent job developing that right. The change in manager was also a good idea because much was being said in Manila newspapers prior to the end of the contract of the disputes between various Filipino managers as to who should get the new contract. By going outside the country for his manager it effectively stifled all those types of distractions. Having an American manager will help him get higher profile fights with bigger purses & is wone of the best moves he has made besides hiring Freddie Roach.

Kimo Morrison:

Well I agree that Freddie was a good change, but as for the rest...that is yet to be seen.


---


melox: Just wanna ask if Morales will lose this fight( via knockout ), do you think he still have the guts going to heavier weight?

Kimo Morrison:

Yes he will continue to move up.


---


MeloxII: The experience of Morales has no match for SPEED and POWER of the destroyer"Manny".PACMAN will eat morales alive...and that's what I called "SWALLOWED!!.."...

Kimo Morrison:

Chomp, chomp, chomp, chomp..............


---


joaquim oliveros: manny pacquiao punching power i surmised is like a hammer tied to a half an inch rubber fully stretched waiting for a target. His physical strength is like a bulldozer tire. When u drop it, it will bounce and balance itself.All of you boxing fans and analyst open your eyes and see what i described here. I respect erik morales skill and strenght as a boxer. He must be more prepared to face pacquiao because pacman is the biggest fighter he'll ever meet in his entire life.Im glad he's training real hard so that boxing fans all over the world will be treated to a classic match.

Kimo Morrison:

I am sure he will come to fight, and that is what we'll see.


---


Michael: How long can Manuel Marquez can handle pacquiao punches... Pacquiao is 26 and Marquez is 30. Pacquiao promised that we will see the real him if Marquez will be willing to fight. Marquez I think is afraid and you can see the face of Pacquiao's opponents when they fell to canvass and trying to stand up. I dont think that pacquiao can beat marquez in 12 rounds decision but pacquiao will knock marquez down in their next fight.

Kimo Morrison:

I think that Pac will win IF they fight but I think Marquez is a warrior and proved it with the last fight as well.


---


hermes dagaas: Having seen many of Pacman's fights as well as Em's, I think Pacman has a slight advantage because of his speed and powerful left. And in his last fight against 3k battery he showed that his right hand was also developed to be a potent power. Well the question is would his power be enough to bring EM into dreamland? What do you think?

Kimo Morrison:

I think that the more punches he has to throw the more trouble Erik will be in especially if he gets hurt early, he won't know what to expect.


---


jason trilles: manny pacquiao beat morales by 3rd to 4th round because of his unexplainable left hand power, if morales gives the opportunity to display his face you know exactly the result, bang! knock out patay si morales!

Kimo Morrison:

I don't think he'll cave in that early but...I have been wrong before.


---


kenneth: I think MP will surely win this one bec he is s great fighter and have the courage to face fear.EM will surely be k.o in this fight.......... Go Manny pacquiao beat him to death

Kimo Morrison:

Not to death!!!! I want to see a re-match if it is as good as it is supposed to be.