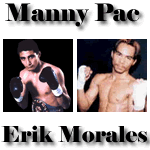 Round Twelve: Manny Pacquiao vs Erik Morales Mailbag!

Kimo Morrison - 3/2/2005

Welcome to Round Twelve of the Manny Pacquiao vs Erik Morales Mailbag.

Round One
Round Two
Round Three
Round Four
Round Five
Round Six
Round Seven
Round Eight
Round Nine
Round Ten
Round Eleven

Just In!! Free Manny Pacquiao Wild Card Training Video


---


kajo: What do you think of Pacman's decision to hire Finkel. What do you think of this Finkel?

Kimo Morrison:

You know, I'm not hip on any of these guys...I think they are all pimps making money off of other people's talent and tons of it to boot. I really don't know why Pac would pull a move like this so late in the game preparing for the biggest fight of his career to date IMO. It just makes one wonder how stable the rest of the team is and what other last minute changes may come about. Finkle can only hurt as his motives and how he pulled this little switcheroo is very questionable. Only Pac knows why he made the change for now, and he'll have to live with it come hell or high water.


---


jay: I'm a big fan to my countryman MP he had brought a lot of pride to our country, but now as I read all their comments about MP and articles posted in the net. His getting a lot of distraction, this might cause his battle against EM. If he loses what next best thing MP should do?

Kimo Morrison:

If he loses, it is no fault other than his own for these are distractions that he has self inflicted. He has many options if he loses just not as many as if he wins. There are a number of other guys that think that they have what it takes to expose what they see as a one dimensional fighter.
---


dodie O....: No doubt that pacman has the power to knock Morales out. But the question here is whether he would have the chance to use that power.. What do you think? coz I think that Morales would definitely use a plan that would frustrate the Filipino... do you think pacman would get frustrated if in the early rounds Morales would just run n run n ect...? Or will it happen or we would see a brawl?

Kimo Morrison:

I think Pac won't get "frustrated" but rather confused...the difference being that I see frustration as being the fringe temperament of anger and angry is something I have never seen Pac. Confused is more what will happen to him as he is a guy that has to follow his plan in order and if it doesn't go from A to B and skips a couple of letters, he cant see how to accomplish the alphabet, you get what I am saying. He would chase Erik down, though he would have a smile the size of Texas on his mug the whole time he was doing it. He is just happy to be in the ring and fighting, it is not personal to him. But I don't see Erik being able to run ALL night and that is when I think Pac will finish his A,B,C's.
---


Jonathan: I think Morales will be able to slug it out with MP until the 7th round. And then get knocked down by the 8th. But what if the same thing happened to MP? How do you think will this affect the country?

I'm an avid fun of MP, and El Terrible should now be practicing to "Do The Pacman".

Kimo Morrison:

If the same were to happen to Pac-Man I will lose some money, but as far as with his countryman...I am sure that they will still hail him ceasar and call for a rematch!
---


Jorge Fernando: I've heard a lot of people comment that Morales is the superior "technical" fighter and this is his advantage over Pacquiao. I have only seen 2 of Morales fights, the one against Carlos Hernandez and the 3rd fight against Barrera. In both these fights he hardly looked like the technical fighter everyone says he is, basically he brawled in both fights. Well if he fights that way against Pacquiao he will be in big trouble.

Kimo Morrison:

One thing about Morales is you won't know what he is gonna do until he does it. He MAY surprise EVERY BODY including myself and pull of the impossible by being able to stay out of a slugfest and use his advantages to their best. It is not above him as a boxer and if you have only seen his last two bouts then you hardly know what REALLY lies beneath the surface of Erik for he is a bag of tricks and can pull off the best of magical performances in the ring, he as Floyd Maywether though has wanted to prove to the public that not only can he move up in weight but he can give and take with the big boys. It is a MUST for him to prove himself and for this I can not see him running all night.
---


Carlo: Do you think the style of Erik Morales will really work in favor of the Pacman as what Roach boasted earlier. The Mexican legend love to mix it up and more likely won't pedal back by the time he will be hit(just like his previous fight). I personally afraid that EM's "terrible end" would lie there if he engage Manny in a brawl as the Pacman will surely caught him with that lethal left. And man, I have to say this... Manny's arsenal is expanding: the right hand of Pacquiao is more devastating now than in the past, just ask Fahsan 3K Battery even though the Thai short-circuited courtesy of left uppercut. Jabs that are powerful, fast and constantly coming once connects be it in the head or body shots can distract Erik's defense and will eventually lead to some opening... and a well executed left-hook or uppercut would surely put and end on this drama come fight night. This is a dream fight and we boxing fans are all sure winner. What's your idea?

Thanks and more power to Unprofessional Guy

Kimo Morrison:

I think that as long as Pac doesn't hurt Erik early and try to finish too soon without being able too as he did against JMM, I believe that it will break down just as you suggested. Erik has a tremendous chin and could weather an early onslaught, if Pac gets too overconfident in the fact that he can take Erik out with just one punch, he will do nothing but try and land that one last left and forget that he has more in his arsenal than just that. If he has to work for it early, he will realize that he is in with a fighter that can only be taken out by a barrage of lefts and rights coming from all different angles.
---


mardy j.c: I think if MORALES can handle the POWER SHOTS of PACMAN... I think MORALES has a decent chance of winning this fight but if not then he better use all of his skills and stay away from PACMAN!!!

Kimo Morrison:

Well that would be the "What if..." scenario and all the what if's will be answered come fight night. I think no matter what he will try and use his skills to the best of his ability and stay away from Pac, or at least his left hand.
---


Teddy: I think nobody has an advantage in this fight. Both boxers are the best in this division. Body conditioning, fight plan and luck will decide the outcome. Anybody disagree?

Kimo Morrison:

Yes, you forgot who is really the best in THIS division as of yet, and that is MAB. Now what happened happened and Pac is one up in what will more than likely be another triple header fought by Marco. I think that if Pac makes it past Erik, (and yes they are both equally skilled with advantages completely different from one another but equal non the less) He will face a much stronger, more confident, hungrier Marco Antonio Barrera and my thought is if that fight takes place, Marco will even the score setting up a third great fight.
---


Arvin F180: This will definitely be one hell of a fight...I'm leaning towards pac via 10-11th TKO but if the fight goes to distance I can see EM winning by UD...just one question, do you think Erik's boxing skills would be enough to negate the onslaught pac will definitely bring to the table the way JMM did? I have serious doubts that he could, Erik always roughs it up in a give and take affair...what do you think?

Kimo Morrison:

I think that we will only see what Erik can take come fight night. I don't think he will get caught early unless he comes out cold and slow, but can't see him making this mistake. I think we will see an Erik Morales that we have not seen before and he will surprise even the heartiest of Pac fans with his skill, chin, and heart.
---


Dino Nitorreda: I know Morales can hit hard, but I still think he's just too slow for Manny. In his last fight against Barrera, he allowed Marco to hit him with his power punches. Although Erik has a very powerful jab, and he has a decent reach advantage against pac, he's just too slow. In this fight, I expect a very different Morales. He will try to use his height and reach advantage to slow down pac. And in order to slow down Manny, he needs to fight intelligently. But Erik's pride will cause his downfall in this fight. If he decides to slug it out with Manny, he will kiss the canvas! Marquez in my opinion, is the only one who can match Manny's attack because of his excellent handspeed and counter punching. Barrera and Morales can never beat Manny. In their division, speed is evrything. And that is something they will learn from Manny. But still, may the best man win!

Kimo Morrison:

I believe his pride will cause him to see his first loss to KO as well, and think that we have yet to see what Manny brings to the table as far as hand speed at this weight. It is amazing at what just a few pounds can do and how he trained, for pure power (possibly causing arm weariness) or for repetitious speed in numbers of punches causing -some- fighters as they move up to lose power to keep speed as they have a tendency not to follow through with their punches quite as well not wanting to stay in the pocket near as long with bigger punchers in higher weight classes. Focusing too much sometimes on speed can create problems with balance and being off balance is something that Pac often experiences. Now, I think that Pac has better follow through than most fighters and his power should not be affected much at 130, and this is because he is always moving foreword, always stepping into his punch and this allows him hopefully to be fast and stay potent. Should he run into a wall and not be able to move Erik around as he hopes, he may find himself in a battle for survival


---


Romar: It's being an upset not see this fight between MP & EM. It's gonna rock your world. Pacquaio has a lot of power to KO EM. But thus not an assurance for PM coz he must prepare himself for a great battle of his life (MP). EM was a great fighter but in his previous fight he showed people no contest against Pacquiao. Hopefully trained more2x to have a contest with Pacman. Based on their previous fight MP express, KO opponents. EM Has a great experience too towards boxing career. So guys lets Volt In to this vigorous fight between to great great name with a great great fighter on the land of boxing. I'm gonna miss and love to watch this game in my whole life. C yah guys!!

Kimo Morrison:

Well sir, a loss can sometimes be more beneficial as an early win can cause overconfidence in self. So depending on how each man came out learning from their last experience we could see a blow out or a draw. I think that Erik will be ready, be sure of that.


---


Ricardito Ayut Sy: Which fighter do you predict to win? I think Morales has the disadvantage of height...Manny feasts on taller opponents as conspicuous in his fights against Hussein,Jamili and Sassa ka na Baby... I do not think a hit-and-run strategy like Isaac Barrio is quoting could work well for Morales against a relentless fighter like Pacquiao..

But really, I like the fighting style of Morales except in his 3rd Barrrerra fight..he loses steam too easily and drops his defense in case Barrearra drops a bomb..I think Morales has no cool in handling pressure down the wire against great fighters...

Kimo Morrison:

I like the way he fought "Famoso" for the way to fight Pac, smother him...it is a strategy that can be easier to put into place than running and cause him to not lose as much energy going down the stretch.


---


winlabs: Manny people know that MAB was badly beating by pacman last 2003...and many people also know that MAB won twice over Morales...can we conclude that pacman against morales would be a mismatch?, in favor of pacman!

What weapon that pacman has that could knock Morales out? can Morales avoid this weapon?

Kimo Morrison:

Well I think that Morales is easily caught with many shots, especially when he sits in the pocket. He leans forward a lot making himself vulnerable to body shots and uppercuts as well as hooks. I think the hardest punch to land on him will be the strait left as Erik has a solid head on defense.


---


Adrian: I agree that Morales may be way ahead of Pacquiao with regards to experience and fight style, but we can never underestimate the difference a power punch can make. And Pacquiao has it. I say knocking Morales in the first round is possible. Don't you think so?

Kimo Morrison:

Possible...well anything is possible when coming to boxing, but is it likely? Not at all. Erik even though is constantly ripped on about starting slow and having to get motivated by eating some punches to start fighting is ridiculous. It just seems as though he starts slow because he usually takes control early by not letting the pace be dictated by the other man, essentially he lulls them to sleep, and then turns on the afterburners and when he turns it on he loses gas fast always making for close fights coming down to the wire. If he were content with being a boring "Winner" all the time, he would probably still be undefeated, but he is anything but boring and he will weather the first round to make this a fight we can enjoy for a while I am sure. Watch for him to slow Pac down early, but not with punishing shots, just veteran pacing tactics that will hopefully cause Manny to become more versatile and realize that it isn't just gonna be a walk in the park.


---


Erick's homie: For those who thinks that Manny will win this fight for sure make your bets at sportbetting.com, then we'll see who really is the best fighter.

Kimo Morrison:

Is that where you find out who the best fighters are? I'll be there so I am on the ball. Thank you.


---


Botyok, NJ: My dear friends, yes,..we should not overlooked EM, as a great warrior, one of the best there is. A boxer who can go up to 15 rounds to think of. But the way I look at it, his prime are over and he's descending now. I saw his last two fights (Chavez/MAB). His power are almost gone compare that way back 5 years ago. Unlike PACMAN, as Larry M said, "a small hungry tiger" with speed & power. We all knew, he started as a flyweight,. not to mention when he was yet a skinny little cotton weight but an exciting amateur boxer in "blow by blow" (i followed this kid show in B x B).Every time he moves up weight, he's increasing his power & improving some of his arsenal. As you can see, after Ledwaba when he snatched the IBF super bantam crown, he let everybody taste the canvass. Only A. Sanchez did not, because of his dirty tactics, low blow & a head butt, until they stopped the fight to a draw. PACMAN is ascending & he is ripe, peak & in his prime. As of now, I know nobody beats the WIZ. For a couple of years, maybe? What are your thoughts Kim? Thanks & more power on this site. PS: How can I get a ticket for this fight? where can I buy them? Anybody who got the info?

Kimo Morrison:

If I'm not mistaken I believe his last two fights were Carlos Hernandez and Marco Barrera, but I could be wrong, nil point besides as I know what you are getting to. It is in this type of position that veteran warriors can be at their most dangerous. Erik feels as though he is in a must win situation and with that comes something that Manny doesn't have and won't need for some time. Survival mode...who knows what Erik will step into the ring. He may realize that this above all other fights will make his mark in history. To use an analogy, a mother bear trying to fend off a much larger male who is younger, stronger, faster, more powerful...the bear that is fighting for LIFE not just a meal is the one who usually comes out the more ferocious, meaner, deadlier. Survival. It is a factor yet to be realized.


---


ryan: What do you think should both fighters avoid to do during the fight in order to win? This fight would certainly be a classic, but I'll pick Pacquiao to win..

Kimo Morrison:

Pac must avoid being caught back on his feet and tied up letting the bigger man try and smother him. Erik must avoid letting Manny dictate the pace, he must slow Manny down no matter what the cost. He must even risk point deductions in order to get into Manny's head before Manny GETS to his. Once this becomes a chess match instead of Engine Joe poker and the game is too complex for Manny, we could all be wrong. But I myself see Engine Joe finishing out the night!


---


Malibog: Yo Kimo!! Morales is and old school type warrior. He may formulate some game plan how to deal with Manny's speed and power while in training but I promise you, as soon as Manny lands a crushing left square on his big nose, Erik will abandon that plan and revert back to his machismo nature and will slug it out with Manny. "If you hit me, I'll hit you back harder" kind of thing! That's why all boxing fans are salivating for March 19th to come. So, what do you think? Am I right or or are we going to see a more disciplined, tactical Erik on March 19th? Gracias!!

Kimo Morrison:

The possibility is always there to see a dominate boxing lesson, but I too am sure that if one wants to stand and trade the other will be more than willing to oblige. This is what makes this fight so exciting and yes I am salivating for this one for I know it will be a rockem sockem, knock down drag out, pop till you drop type fight! I can't wait!