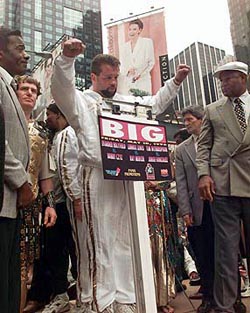 An Interview with Bobby Czyz Part 1: Formative Years, Amateur Career, and The Rise and Fall of a Middleweight

Read An Interview with Bobby Czyz: Introduction To the Three Part Interview: Perception, Reality, and Legacy

Greg Smith - 9/14/2005

Exclusive Song Download: "The Ballad of Bobby Czyz"

Before conducting the interview with Bobby, I thought I knew about as much as any boxing aficionado could know about the details of both his career and his life. All told, I knew about his upbringing in northern New Jersey, his amateur background, the 1980 plane crash, some details of his personal life and struggles, the intricacies of his professional career, and his career at Showtime.

Nevertheless, for the sake of journalistic integrity and due diligence, I prepared for the interview by studying hours of tape, reviewing several internet articles, looking over old magazines I hadn't read in years, and repeated the process until I felt I had everything in perspective.

To brush up, I had two preliminary phone conversations with Bobby before the interview totaling a little over an hour. After reviewing the research material, and verifying some items with Bobby, I carefully constructed 25 questions with the goal of building a broad and complete personal and professional mosaic

Regardless of the preparation, boxing interviews are kind of like a box of chocolates: You never know what you're going to get. As I discovered quickly, there was infinitely more to the picture than meets the eye. The first twenty years of Bobby Czyz's life kind of mirrored the roller coaster-like nature of his career, but in a more visceral, complex, and sometimes paradoxical manner.

Bobby Czyz was born on February 10, 1962. I knew that Bobby spent the first few years of his life in Orange, New Jersey, but was essentially raised about 30 minutes away from Orange in the suburban enclave of Wanaque. When I asked Bobby about his upbringing in the suburbs, he politely interrupted me to put a variety of things in proper context.

"That is not completely correct. I was born in Orange, New Jersey. It was in the 'Harlemesque' section; the really downtrodden, ghetto area. I don't have any memory of Orange, and I don't have much memory of Newark. I used to live in Newark, too. It was in a bad section before I was two or three years old. I was a very small baby in the apartments."

Bobby also provided additional information about his early years by speaking candidly about his parents.

"I was born five days before my father turned eighteen, and four months before my mother turned eighteen. So, I was obviously not a planned child. They had both dropped out of high school. My father got his GED, and my mother didn't. She had three kids before she was twenty. So, it was children raising children, if you will."

For the Czyz family, life was difficult from the beginning.

"When my parents got married, and got back from their honeymoon, they had a grand total of forty cents. They had to borrow money to pay for the cab to get home. They lived with my aunt and uncle for some time. They were taken in; family is family. They then lived for a while with my grandparents, which I have memory of. My grandparents had a two family home. We had the upper floor, and they had the bottom floor. Once my mother and father got on their feet a little bit, they paid a nominal rent."

When Bobby was four-years-old, the Czyz's moved to East Orange, New Jersey. Bobby describes East Orange as "still not the loveliest of areas," but his father was able to buy a three family home, and was the landlord of the building. It wasn't the suburbs, but it was a step up from Orange and Newark.

At the age of ten, Bobby's parents were called in to have a meeting with his teachers at the school. Normally, most parents would be worried when school administrators make a call to parents, but the meeting between the teachers and Bobby's parents proved to be a stunning, pivotal point in the life of the Czyz family.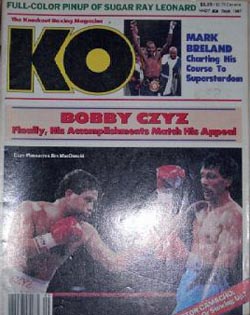 "The school system had called in my father and my mother to tell them I was too advanced. They recommended that I move out of the area because I had finished the entire school year's curriculum --along with a young African-American girl named Courtney Chambers-- by April. We had to just sit around in May and June while the rest of the kids caught up. We had 34 kids in the class. Some of the kids who were ten years old could barely read, and the teachers had to cater to some of that. The administration just called my parents and said they needed to get me out of there because I wasn't going to get a proper education."

The Czyz family then moved to Wanaque. Bobby classified his section of the city as "lower middle class", but the educational system was very good. Bobby's intellectual capacity was certainly nurtured in the transition, but the move from the inner city to the suburbs wasn't an example of seamless bliss.

Bobby's father, Robert Czyz Sr., grew up in very rough circumstances. He was only two when his own father died of a heart attack. He eventually became a member of a street gang, and was once incarcerated at the Jamesburg reformatory. Rubin Carter and James Scott did time at Jamesburg as well.

Bobby describes his first impressions of moving to Wanaque.

"I was the long-haired kid with city clothes. It wasn't just the city stigma, but the city attitude. From the age of four, my father taught us how to defend ourselves, and how to box. I have video tape of me at the age of three or four, punching with him, him smacking me in the face, and punching. People look at that and laugh. They say, 'Wow, it started that long ago?'"

Bobby started his amateur career at the age of ten when the Czyz's moved to Wanaque. Bobby had done some informal, backyard boxing with neighbors for a few years previous to moving to Wanaque, but moving to the suburbs didn't stop that from becoming the major focal point of Bobby's formative years. As Bobby illustrates, boxing was a destiny chosen for him by his father.

"We moved to Wanaque in the first week of September of 1972. I was ten. The very next week, he took me to the gym in Paterson. He didn't ask me if I wanted to. He said, 'This is what you're going to do.' I said, 'For how long?' He said, 'Until I say otherwise.'

Five years later, Bobby had won the Junior Olympic State title twice. He also won the East Coast Regional title twice. He won the bronze medal in the Nationals. Like Tony Ayala Jr., Bobby was often matched with grown men in the gym. Bobby's reputation wasn't simply on the amateur level, but in the pro gyms as well. He also used to lie about his age to enter certain tournaments.

"They used to call me 'The White Boy With Soul.' I fought more like a black or a hispanic fighter. I had a lot of rhythm when I fought. I fought more like they did. People still don't understand to this day what soul is. I tried to explain what soul is to a couple of writers who have interviewed me. I tried everything I could think of to explain what soul is. I finally came up with the following analogy, and everybody seemed to get it."

The analogy is just one of those things: You either get it, or you don't.

"If you watch Larry Bird play basketball, he's technically correct. Everything is perfect. His execution is correct. Everything is correct. Then, watch Michael Jordan play. You can't describe what Michael Jordan does. It isn't technically anything you can put a finger on, but that's soul. That floating through the air with the grace that he has of making the impossible happen. That's soul."

I think I understand Bobby's meaning, but disagree with part of it. Larry Bird was a genius in a hick suit.

Realistically, Bobby's talent level is a study in what his father called "balance." Bobby had a great chin, but he didn't have exceptional speed or power. He had a "package of reasonable goods" that could be molded, shaped, and honed to a fine edge to carve out something exceptional when mixed with will, fortitude, and toughness. To put it another way, Bobby had a short 68" reach, but was long on heart, and unusually intelligent to the point where he knew how to maximize his strengths, and minimize his weaknesses.

As Bobby was developing and making a name for himself in the amateur ranks, his father was always by his side. Robert Czyz Sr. inculcated Bobby in a manner many would deem unorthodox. First, Bobby was raised by his father to be an atheist. At an early age, Bobby was questioning the meaning of God. He liked the idea of living eternally, but Bobby's father explained a different reality.

"Listen son. There are people that believe in God, and people that don't. People that believe in God believe in God because they're taught that by their parents, who don't know any better. If you want to be eternal, and live forever, you can only do it in one or two ways. You can get married and have children, and have your blood line and your name will go on forever. But there's no guarantee that your children will have children and continue the process. The other way is to become so special that you'll become part of history. Preferably, not like Hitler, who was a heinous assassin, but for doing something like being President, winning the Olympics, being a world champion, or winning a Super Bowl. To be so special that your name will live forever in sports or something that has to be footnoted forever."

This type of upbringing created problems in the neighborhood. Many children were not allowed to play with Bobby because of his atheism. Regardless of the negative ramifications of Bobby's atheism, Czyz became a highly driven, goal-oriented achiever. Not only was Bobby a perfectionist in training, but in the classroom as well. As mentioned in the introduction, Bobby was a distinguished student. He balanced the two well, but with the iron fist of discipline of his father to drive him farther.

It is well known that Bobby, his siblings, and his mother were subjected to physical abuse by his father. The byproduct of the abuse was two-fold. Bobby feared failure and not performing up to expectations based on his own goals, but it was taken to another level if he made a mistake that would result in a beating by his father. If Bobby got a B in school, he'd get smacked or grounded. At the same time, it created a very tense atmosphere and ambivalence in the household. It was a love and hate relationship at a different level.

To illustrate the complexity of this dynamic, Bobby and his mother spoke about the meaning of Bobby's car accident that prevented him from being part of the U.S. team that perished in the 1980 plane crash. Bobby's mother was religious. She felt God played a role in Bobby's bizarre twist of fate. When Bobby's father heard about it, he subjected his mother to physical abuse. As Bobby said in our interview, "My father was more vicious than Hitler, and my mother (who today lives in Florida) was nicer than Mother Theresa."

The polarity created a quality in Bobby that can only be described by him.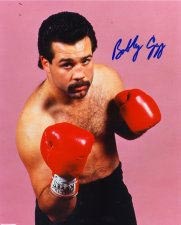 "I have every single plateau in between both (parents), and both extremes. I can be the nicest, sweetest guy in the world, or I can slit your throat and dip my sandwich in your bleeding neck if you cross my family, hurt me, or harm the people I love…and have no compunction about it. It was the way I was raised to see the world."

When police were sometimes called to the Czyz household, Bobby said the police were afraid because his father was a sharp shooter, and was known to be heavily armed and ruthless. Bobby's father was also self-educated. He read all of the volumes of the encyclopedia, and actually read the dictionary twice. Bobby told me his father was obsessed with being omniscient.

G. Gordon Liddy's best selling book, "Will", and the Nietzchean philosophy of the Overman, became a huge part of Bobby's character development as well. Bobby's father once ordered him to climb a tall tree as a way to cure his fear of heights. Today, Bobby uses skydiving as an adrenaline rush, and as a method to continue conquering his acrophobia.

What doesn't kill him makes him stronger.

On the other side of the coin, Bobby's father called him "Chappie" in the tradition of the relationship between Jack Blackburn and Joe Louis. It's a complicated example of love, devotion, loyalty, brutality, resentment, and anger from myriad angles. Today, Bobby will tell you that his father's temperament and intellectual abilities were an example of a man on the borderline of genius, madness, and sociopathy.

Regardless of the many issues Bobby had with his father, they ultimately worked together to get his pro career going in 1980 with the goal of creating an indelible legacy on the boxing landscape. They realized that simultaneously going to college and being a successful professional boxer didn't mix. It was simply one or the other. To be great, one had to concentrate and perfect the craft or chosen profession without distractions.

As mentioned in the introduction, Bobby turned pro shortly after his eighteenth birthday, but his first year as a pro was tough. He wasn't managed or marketed quickly with the help of the "Tomorrrow's Champions" concept in 1980. However, Bobby had some good things going for him as well.

Bobby chose Lou Duva as his manager, and Tommy Parks as his trainer. Ironically, Parks was a guard at Jamesburg when Bobby's father was incarcerated there. Parks also trained Rubin Carter. Bobby's father spoke well of Parks, and the relationship between Parks and Bobby was done on a handshake; no formal contract. That relationship never changed throughout Bobby's career. Tommy was a friend, trainer, sometimes father figure, and inextricable part of Bobby's life and career.

Bobby's career permanently changed in 1981 with his impressive eight round decision win over Teddy Mann. Bobby became part of "Tomorrow's Champions," and his career took off. Bobby's ring presence and outside-the-ring charisma attracted the networks and fans from all over the country. People sent him gifts. They offered to have him stay at their house or condo when he was traveling. Women would send semi-nude pictures of themselves. One family acquaintance actually commissioned a song about Bobby through his father. Bobby never used the song during his entrances to the ring because he was partial to the song "Fame." Over twenty years later, Bobby has held on to a copy of the song because it's actually superb. The lyrics are great. You can listen to the song here by clicking on the link at the top of the page.

Bobby said all of the adoration and strange overtures were "crazy" and new to him, but his natural discipline, coupled with excellent matchmaking, superb training and sparring, and vision to become the best kept him from becoming another victim of the limelight. He continued to win, and win impressively.

Bobby's early 1982 win over Robbie Sims created the highest ever Nielsen rating at the time on NBC. Lou Duva saw opportunity, matched Bobby with more southpaws, and started to set his sites on a title fight with Marvin Hagler, even though Bobby was only twenty. Bobby enjoyed his success and notoriety, but he truly didn't believe he was ready for Marvin Hagler. As Bobby said, "I was only twenty. I wasn't ready for a guy like Marvin Hagler!!"

Duva ultimately put together a card in November 1982 matching Bobby against Mustafa Hamsho. Notwithstanding Bobby's protests, Duva's goal was to use Hamsho as a bridge to Hagler. Some observers, including myself, felt Bobby might be able to beat Hamsho. Hamsho was infinitely more experienced and battle-tested than Bobby, but Hamsho also cut both badly and easily. I thought Bobby would intelligently aim for Hamsho's scarred brows, and come away with a possible TKO victory without engaging in a war of attrition.

I was wrong.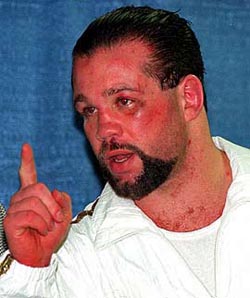 First, Bobby wasn't exactly crazy about fighting Hamsho. He felt Hamsho might be too far a step up, and rejected Duva's initial offer to face Hamsho for $125,000. In fact, in a strange turnabout, Duva actually once advised Bobby that Hamsho wouldn't be a good fight for him. Mustafa was a rough, dirty, and strong southpaw. That kind of fighter can be a career breaker, not a career maker.

Bobby was a little confused by the change, but was still intrigued. As Bobby told me, $125,000 was a lot of money at that time, and represented more money than his father made in a few years. Nonetheless, Bobby was cognizant of the risks, and was adamant that the amount simply wasn't enough.

Bobby's rejection of the offer created a tough situation. As Bobby later learned, his name on the marquee was central to the fruition and creation of the card. Shortly after Duva's original offer was rejected by Czyz, Lou came back with an offer of $175,000. Bobby felt that the counter offer came too quickly and conveniently. It made him suspicious that the money was there all along, but wasn't being offered in a completely honest manner. Despite Bobby's concerns, he ultimately accepted the offer, and the bout and card were made.

The story of Hamsho – Czyz is well known. Bobby came out as a southpaw, and tried to peck away at Hamsho's scarred mug. He broke his hand in the second round, and was clearly outgunned in his first defeat. Hamsho was simply stronger, more seasoned, and better on that night. Bobby told me that even if he didn't take the powerful diuretic, lasix, for several days leading up to the bout to make the weight, and didn't break his hand, he's not 100% sure he would've beaten Hamsho on that night.

He just wasn't ready.

To this day, Czyz holds no animosity towards Hamsho. In fact, even though it was tough to absorb the first loss of his career, he actually felt a sense of relief. It put him in a position where he could rebound, and make significant changes in his career.

A few years ago, Hamsho and Czyz participated in a 9/11 benefit. They got in the ring and did a mock re-enactment of their fight. Czyz kiddingly instructed Mustafa to back him into the ropes, hit him in the balls (not too hard), and put his elbow across his face. Hamsho obliged.

Bobby then loudly joked, "What the f..k! You did it twenty years ago. Why don't you do it again!!" Everyone in the crowd got a good laugh as Hamsho softly did it again.

After the benefit, Bobby said Hamsho's wife thanked him for not making it into a real fight. Mustafa was overweight and out of shape, and it wouldn't have been appropriate in many ways to try to settle an old score.

In his first defeat, Bobby was neither bitter nor angry on a short-term or long-term basis. It is another example of the manifold, but balanced nature of Bobby's mentality and character.

After losing to Hamsho, however, Bobby didn't realize how his character and life would be challenged in the next year.

Discuss This Now on the NEW HCB Message Board



Send Greg your Questions










Copyright © 2003 - 2006 Hardcore Boxing

Privacy Statement