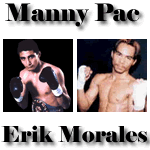 Round Four: Manny Pacquiao vs Erik Morales Mailbag!

By Isaac Barrio 2-3-2005

Welcome to Round Four of the Manny Pacquiao vs Erik Morales Mailbag. The fourth of many more mailbags to come. Make sure to also send question for the Video Mailbag and have your Question read on Video to Manny Pacquiao.

Round One
Round Two
Round Three
---


Mikel: I think Pacquiao will do it again..He is against all odds against Barrerra and demolished him round by round...He is not the favorite against Lucero but he almost killed him..I think Pacquiao is just too good in and out of the ring and he'll win by 7th round TKO...But Pacquiao has difficulties on better skilled fighters, do you agree? If against power punchers, Pac will surely win... But for Strategy-laden, defense-oriented opponents like Marquez, Pac will have a hard time.. Can Morales use Marquez' strategy come at fight time?

Isaac Barrio:

Thank you for the question Mikel. Pacquiao will be well advised to jump on Morales and make it a brawl. Manny cannot beat Morales in a tactical boxing match. If it turns into a chess match, Morales has the edge and will win the fight going away. If it turns into a brawl, Manny has the edge and will knock Morales out in the lates rounds.


---


Ben Kirchner: First off I would like to voice my prediction. I say Pacquiao wins a UD making Morales hit the canvas once. However I think there are people that are basing their predictions on horrible logic. Pacquaio ran through Barerra, Barerra beat Morales, therefore Pacquiao destroys Morales.. Gimme a break! Common opponents can justify some logic, but Morales is a top notch fighter and Pacquaio is not superman. Anyone who says Pacquiao is going to KO Morales within the first half of the fight needs to watch more Morales fights, and the Pacquiao Marquez fight. Anyway, what I really wanted to get your opinion on is what do you see these two doing from this match? If Morales wins, does he move up and fight the big boys at 135, or does he seek a 4th match with Barerra? If Pacquaio wins, I see him fighting Marquez next or later that year. Barerra may be another option after redeeming himself from the win against Morales, and that fight would most likely offer more money as well. However, I think the biggest money would be for Pacquaio to sometime in late 2005 or early 2006 fight a certain featherweight who originally started bringing money to the featherweight division.. A man that has confirmed the constant rumors of a comeback.. That man of course is Prince Naseem Hamed. I figure if the Prince gets some decent fights to prove himself again, the fans would love to see Pacquaio vs. Hamed. Both certainly pack a punch, and both have styles that please the crowd. Am I dreaming? Possibly. Time will tell. But to wrap things up. I see Pacquiao winning a UD over Morales, then fighting Marquez. I see Morales showing a good enough performance to keep him on the map and he'll seek another big fight and most likely get one.

Isaac Barrio:

Great Comment and Question! I agree with the logic of previous fights and opponents having little bearing on this fight. Morales is indeed a warrior and will not be taken out early. Morales is too smart to let that happen. Pac better be willing to put in some body work on Morales and not go head hunting.

As for the second part of your excellent question. For Morales (win or lose against Pacquiao), a 4th fight with Barrera is inevitable. In 36 rounds of combat there is still no clear cut winner. The money is avaible for it, the fans will buy, and it will happen.

As for Pacquiao, I think he eventually finds that rematch with Marquez and wins that fight. I don't see Pac moving up in weight, I don't think he can handle a Diego Corrales. What I would like to see is an all out war between the unretired Prince and Pacquiao. Imagine that!


---


Henry: Reading all the letters through this 3rd round of mailbags, I'll just wait 'till fight night. Morales will win via knockout within the 5th to 7th round mates!


Isaac Barrio:

The mailbag has definitely has a Manny Pacquiao slant. A majority of the questions have been coming in from the Manny Pac faithful. Nothing wrong with that! They support their national hero. But like they say, to the victor goes the spoils and if Morales wins they better have a lot of ketchup for that crow.
---


Leonid: Why EM shows no sportsmanship behavior to Marco in their last fight? Do you think this will happen to his fight against the PAC man? I'm just worried because there will be a huge number of fans will watch the fight in Vegas and you know Mexicans and Philly have something in common (chill heads), I hope there will be no riot happens. Thanks

Isaac Barrio:

Calm down. No riot will happen. The Vegas PD will be on the situation. As for Barrera and Morales. There is no them! They have zero love for each other. Barrera and Morales is the biggest rivalry in boxing. Pacquiao and Morales wont be friends after the fact but I doubt this bout turns into something ugly.
---


Baki: I am a fan of both fighters, I heard in an exclusive interview that EM is an idol of pacman that's why pacman has nothing to lose but everything to gain in this fight because he will face his idol(dream fight). On the other hand, the pressure is on EM since he will be tested by a rising superstar in the ring his career will be judged in this fight. More power!!!

Isaac Barrio:

I'm also a big fan of both fighters. I have favorites. I don't pretend to be a straight arrow type of reporter. You better damn well believe that if my Man is fighting I will be biased in my thinking. But since I like both Pacquiao and Morales I have to agree with you, the pressure is on Morales and his camp. Morales will be facing a juggernaut in Pacquiao. Pacquiao may be a Morales fan but make no mistake; Pacquiao will be coming for his head.
---


JM: I have been a morales fan for a long long time. I salute him for having the courage to fight Pacman after Barrera beat him, who was beaten by Pacman in a very humiliating manner. This fight is a dream come true for me. Im a Filipino and i know long before the Pacman-Barrera fight that PACMAN has a lot of potential and very underrated. He just didnt have the oppurtunity to show it to the world until his epic destruction of the legendary Marco Antonio Barrera. Some may say that he's one-dimensional but it's not true. We the Filipinos knows how he trains and conditions his body. In his bout with Fashan 3K battery, he optimized the use of his right hand most of the fight. Only when the oppurtunity for the uppercut did he used his left hand. This is going to be a blockbuster fight and the ultimate winner will be the boxing fans around the world. Thanks and more power!

Isaac Barrio:

I feel you brother. Pacquiao has been underrated and overlooked in the past. Pacquiao and Bernard Hopkins are in shape everyday of the year, more boxers should take notice to their training habits. I also agree that Pacman has an abundance of potential. Hopefully Pacquiao doesnt fall victim of his own hype.
---


Winlabs: Can Morales hit a power punch to pacman?

Isaac Barrio:

Of course Morales can. Anything can happen on fightnight...including Pacquiao getting Knocked out.
---


Eric : Do you think manny's overconfidence (because of all the hype he's getting) will have him lose the fight like what happened to barrera?

Isaac Barrio:

It is one thing to have confidence but its another thing to buy into the bullshit hype that your superman and unbeatable. No one is unbeatable! Look at the mighty Roy Jones Jr. But I think Pacquiao will keep a cool head for this fight. Pacquiao knows his abilities and along with Roach he will come in with an excellent game plan.
---


Edwin Gonzales: I disagree with alot of people who say that Morales has an advantage coz of his height and his weight come fight night..if you remember Morales came in the fight against MAB weighing 143 and really had no advantage...if anything Morales looked slow and lethargic..If Morales cant beat MAB at 122 or 130 dont you think this will be an easy night for Pacquaio?...one other question...do you believe that Barrera is still blue after Pacman ate him up last year? Cuz i dont hear Barrera calling out Pacquaio and Barrera has a rematch clause?????

Isaac Barrio:

Height is an only an advantage if you use it. I think Morales will come in with a plan of using his jab, whether he sticks to it is a different question. What happened between Barrera and Morales has no bearing on this fight. Barrera and Morales is a rivalry. Things are different with rivalries. I also think that things are not finished between Barrera and Pacquiao. We might see a second fight down the road.
---


Treblegna: I think stamina and conditioning will dictate the tempo of the MP and EM fight. If you will notice the BARRERA MP fight? or The Barrera-Morales fight? If you will notice both Barrera and Morales already lost steam come the 8th to 12th round. While during the Pacquiao-Barrera fight the same thing happened to Barrera which spelled his demise. Definitely MP is going to win this one if he gets the same conditioning as before.

Isaac Barrio:

I think only one other boxer comes close to Many in terms of conditioning and that is Bernard Hopkins. If you base things only on conditioning you make a great point. But this fight has many more intangibles then conditioning. I still say this fight is a Pick Em fight. The winner will be known fightnight. Until then we can just shoot the bullshit like we are doing now. It is fun though!


---


Ramil4002: WHAT IF MANNY KO'S MORALES IN EARLY ROUND WHAT WOULD U DO?

Isaac Barrio:

I gonna jump out a ten story window.