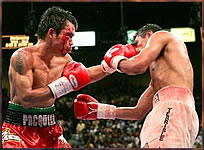 Post fight Pacquiao Vs Morales Mailbag: Part III

By Isaac Barrio - 3/24/2005

Revisit the Action. Round by Round: Pacquiao Vs Morales




J R palaypayon:

Isaac, in the last round, when Erik gave Manny a chance to get a knockout and Manny landed some devastating punches, do you think if Manny used his own Reyes gloves and if he did'nt have his cut, do you think he would have been able to knock him out? And what will be your forecast for a rematch when Manny "Pac-Man" Pacquiao is renewed and has a better strategy for his next fight with Erik?

Isaac Barrio:

Both Manny and Erik were exhausted in the last round. Manny's corner knew he most likely needed a KO and Manny went for it. Erik threw caution out the window and went for the glory by brawling with. Erik showed he is a warrior in that last round; he stood his ground and fought. Like a man should do. The gloves or cut didn't make any difference in the last round.


---


Jesse Perez:

Isaac you really hit the nail in the head alot of Pac fans have no idea of the sport and go blind over the lies of Murahad and roach to make money of their fighter. Is Manny a good fighter? yes he is but not in the Elite he got schooled by one. Plus he is so easy to under etimate that he has prob caought Barrera and JM off guard.

Isaac Barrio:

Manny was under the radar when he fought Barrera but Marquez should have known what's was coming. Erik is indeed an elite fighter and he out classed Pacquiao by coming in better prepared. I think the Pacquiao Team underestimated Morales. Morales has a lot of fight left in him, he wasn't going to roll over for Pacquiao. I do hope that Pacquiao fans do become fans of the sport.


---


poloy wafuko:

I'm a filipino, and salute Erik Morales and the Mexican people for his victory against our hero Manny Pacquiao. Well, we Manny Pacquiao fans have learned the lesson to be humble next time when Manny fights - that we should keep our mouth shut and wait for the result. Though Manny lost the fight, yet there is nothing to be ashamed of coz he lost that fight valiantly. But the shame go to those who have "big mouth" Manny Pacquiao fans and Team Pacquiao's hyping about pacman's demolition of Erik Morales prior to the fight specially the "Manila Ice" that remained frozen until the fight was over. Second, Erik Morales was in seclusion while he was training without distraction from his fans. I hope Manny and Freddie Roach will shut the Wild Card Gym's door away from fans and media during training.

Despite Manny Pacquiao's loss, I still remain a loyal fan. And in our defeat -it made us humble as the Bible says: "The Lord resist the proud, but give grace to the humble"!

Isaac Barrio:

No shame in losing to Morales. Pacquiao gave all he had in the ring; he simply lost to the better man. If there is a rematch Team Pacquiao better come with a set plan. Maybe Pacquiao should head up them hills to Big Bear. Wild Card is right smack in the middle of Hollywood, California; there is no avoiding fans or media if he continues to train at this location.


---


Rey_emman:

Hi there Isaac. Its been a wonderful day last March 19. Its been a war of pure warriors in boxing. Pacman and El Terible displayed what the boxing fans should see. That is what boxing is all about. Each warrior comes from a dominant Catholic nation and have the same monetary currency, but what they showed the boxing world is $$$$$!!!. Fight fans want to see it again. Isaac, who do you think Pacman's next opponent?

Congrats on your mailbag, many surfers read it.

Isaac Barrio:

Thanks for the comments. It is good to know that someone out there is reading our material. I would LOVE to see this fight again. I think Team Pacquiao better come in with a set fight plan if they do fight again. It should be known that speed and power cannot overwhelm the wit and courage of Erik Morales. I truly do think that Team Pacquiao was taking this fight to lightly. I really think that Pacquiao should move camp elsewhere. I have been to the Wild Card gym, it is a mad house. Los Angeles in general has too many distractions. Erik took the right path by heading to the mountains.


---


Malibog Ako:

Freddie has done a lot of good things to Manny but I think it's time for Manny to break loose from Freddie. Where was Manny's hunger? Ferociousness? Tenacity?? Gone!!! And Freddie did nothing to motivate Manny in between rounds. No sense of urgency whatsoever. Freddie is great trainer but I think at this point in Manny's career, a fresh change and new ideas from a trainer who will motivate and inspire him during the fight is just what the doctor ordered. If they rematch, Manny will lose again if Freddie is in his corner.

Isaac Barrio:

I disagree. Freddy Roach is a great trainer. Freddy might have a unique way about him but do not mistake that for being soft. In general I think Team Pacquiao as a whole made a lot of errors.

1. Pacquiao allowed conflict in his camp by make a change late in the game.

2. They allowed the Wild Gym to become a circus.

3. They underestimated the ability of Erik Morales.

Ultimately the fighter controls his environment. I think if they do rematch, Pacquiao should pack up his team and head up the hills. Don't allow media to come up everyday. Don't allow fans to gather outside. Concentrate on the task at hand. Live, eat and sleep boxing.


---


Richard Legaspi:

DAMN, I KNOW PACMAN LOST NO EXCUSES BUT DAMN, JOE CORTEZ HE GAVE JMM A LONG COUNT ON THE 3RD KNOCK DOWN OF JMM VS. PACMAN FIGHT!!!

THEN HE SAID THE CUT WAS MADE BY A PUNCH IN THE MORALES FIGHT, WHERE EVERYBODY SAW IT WAS ACCIDENTAL HEADBUD .. THAT'S A BIG DEAL RIGHT?? CAUSE IF THE DOCTOR SAID STOPPED IT, MORRALES WINS BY TKO

PLUS THE DOCTOR WAS LATINO. I KNOW NO EXCUSES BUT DAMN CAN A FILIPINO GET A FAIR FIGHT!!! NOT TO METION THE GLOVES!!! WHAT THE HELL.. FELLOW FILIPINOS I'M TIRED OF FILIPINO BOXERS GETTING FOOLED.. WHAT DO YOU GUYS THINK!!!

Isaac Barrio:

No Latino conspiracy theory allowed. It was a fair fight. Cortez did a decent job. Pacquiao lost to the better man. Case Closed.


---


Rik P. Gatip '79:

Isaac...bro

am not a big fan of Morales...meebe coz i find him too slow in some of his fights...just like everyboby else, i thought that him facing the Pacman in a square ring will spell doom for el terrilbe's colorful career...to my surprise...Morales showed a lot of class ang savvy that night against our idol...and he really won my respect for that...My heart bleeds for the PACMAN...my IDOL...but it is not the end...and Manny proved it before that he can rise from the grave and show the world what stuff filipinos are made of...

MABUHAY KA MANNY at pinatunayan mo ang TAPANG at ang DETERMINASYON ng tunay na pilipino sa buong mundo....

Isaac Barrio:

I think that Team Pacquiao also had the same line of thinking that you did. Maybe they figured that Morales was a great warrior but his time had past. That is why I said that past fights would have no bearing on the outcome the Pacquiao Vs Morales fight. Pacquiao is not through by any means, he will remain a force for a long time to come. As you can see, just as fast as fans and writers jumped on the bandwagon they are jumping off.


---


Observer:

The filipino fans are greatly disoriented. The victory of the conqueror, ERIK "EL TERRIBLE MORALES",is undeniable and as good sport fans, the supporters of the bla,bla,bla--Pacquio, should recognize Erick as the supreme champion that he truly is.

Isaac Barrio:

No need to hate. Pacquiao fans can hold their heads high. Pacquiao gave a 100% in the ring. He lost to the better man.


---


harold:

good day what if morales fight Randy Suico the 3 contender in the superfeather he is a filipino with nice credential.

Isaac Barrio:

I don't think that Morales will be fighting him. At this point in his career, Erik will be looking for big money fights…And rightly so.


---


Iamthewalrus:

If the gloves didn't matter, then why did morales specify the it in the contract? why did he let manny use winning instead of reyes..?

Isaac Barrio:

OK, they do matter. But not for reason you think. It is all mind games. All about getting in your opponents head. The weigh of the two gloves is EXACTLY the same.


---


bhordz:

Well, the fight of pacman againts Morales is a very great fight ive ever seen in my life, but pacman as what ive been seen he is not in good condetion, thats why he loss the game. but whats out for the next fight i know he show us his good in boxing. Im a fns manny

Isaac Barrio:

Pacquiao did seem to tire during the mid rounds. Was it from bad training or Morales putting in work to the body? Pacquiao seemed to be in excellent shape, as he always is. I think Morales controlled the fight with some good body work and right hands. Pacquiao had no response for Morales plan.


---


ArchAngel:

I think Erik's camp have scouted well.. pacman is not prepared of Eric's Long arm that's why the pacman lost.. But the REMATCH will be totally different.. the Destroyer PACMAN will discover how to undo the long arms of erik morales.. and he will unleash his left arm smasher! and the pacman will eliminate the so called "el terrible".. and it will be terrible what the destroyer pacman will do to him the next time COMING WITH EVERYTHING

Isaac Barrio:

Erik's camp was well prepared. I'm sure they put in many hours watching video of Manny Pacquiao. Erik had the perfect camp and perfect fight plan. And Manny didn't help the situation by having a circus instead of a training camp. Chalk this up as a learning experience.


---
Send in your Questions or comments!!






---
---
Copyright © 2003 - 2005 Hard Core Boxing